Product Name:
PlaqueOff® Dental Bones
General Description:
1. Each dog chew contains 2.5% PlaqueOff® Powder, which helps clean plaque and tartar and inhibit plaque formation.
2. Elastic and soft texture is conductive to the cleaning of teeth and the corner part for removing plaque and tarter and reducing food residual.
3. Inclusion of fresh chicken meat provides a good source of protein.
4. Chlorophyll helps freshen the breath.
Packing size: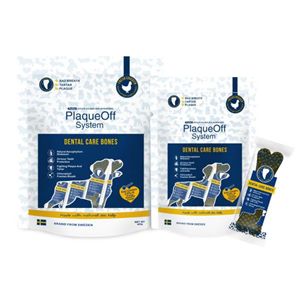 200g/400g, independent inner package for each bone.
Recommended Dosage:
Dog below 10 kg weight : 0.5 bone/time
Dog between 10kg-25kg weight: 1 bone/time
Dog over 25kg weight: 1.5 bones/time
Applicable Dogs:
suitable for dogs over the age of 3 months and one time per day.
Notice:
Please consult your veterinarian before use for pets under treatment of hyperthyroidism (hyperactive thyroid).